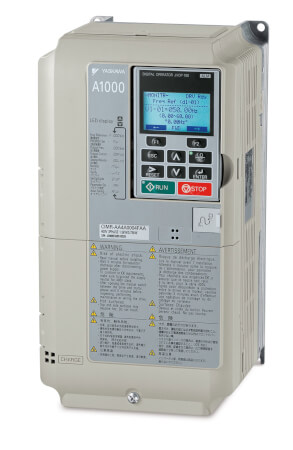 A1000
Hoogwaardige vectorregeling
Bereik: 200V-klasse, 3-fasig, 0,4 tot 110 kW; 400V-klasse, 3-fasig, 0,4 tot 630 kW
Stroomvectorregeling met of zonder terugkoppeling 
Hoog startkoppel (200% bij 0,3 Hz, spd-bereik 1:200 OLV), (200% bij 0 rpm, spd-bereik 1:1.500 CLV) 
Dubbele classificatie ND 120%/1 min en HD 150%/1 min 
Geavanceerde auto-tuning voor IM- & PM-motoren 
Open Loop-besturing van PM-motoren 
Geluidsonderdrukkende technologie met lage draagfrequentie 
Design met een levensduur van 10 jaar 
Schroefloze klemverbindingen 
Stuurcircuitaansluitingen met geheugenback-up 
24 VDC-voeding voor besturingsbord optie 
Veldbuscommunicatie: Modbus, PROFIBUS, CANopen, DeviceNet, MECHATROLINK-II, PROFINET, EtherCAT en EtherNet/IP 
Geïntegreerde veiligheid: EN ISO 13849 veiligheidscategorie 3, stopcategorie 0, IEC EN 61508 SIL 2 en EN 61800-5-1 met EDM 
Regeneratieve oplossingen als optie 
UL, cUL, TÜV en CE
Specificaties & bestelinfo
| Product | Drive control method | Drive supply voltage | Max. motor output at constant torque (HD) | Max. motor output at variable torque (ND) | Built in EMC filter | Degree of protection (IP) | Finless type | Compatible motor type | Regenerative solutions | Communication port(s) | Communication option(s) | Beschrijving | |
| --- | --- | --- | --- | --- | --- | --- | --- | --- | --- | --- | --- | --- | --- |
| | Closed loop V/f, Closed loop vector, Open loop V/f, Open loop vector | 230 V three phase | 0.55 kW | 0.75 kW | No | IP20 | No | Induction or asynchronous motor, Permanent magnet motor | As inverter option | MODBUS Slave, Serial RS-422, Serial RS-485 | CANopen, DeviceNet Slave, EtherCAT Slave, EtherNet/IP, MECHATROLINK II Slave, MODBUS/TCP, POWERLINK, PROFIBUS DP Slave, PROFINET Slave | A1000, freq.reg., 3~ 200 V,HD: 0,4 kW, I nom. 3,2 A / ND: 0,75 kW, I nom. 3,5 A, max. output freq. 400Hz | |
| | Closed loop V/f, Closed loop vector, Open loop V/f, Open loop vector | 230 V three phase | 0.75 kW | 1.1 kW | No | IP20 | No | Induction or asynchronous motor, Permanent magnet motor | As inverter option | MODBUS Slave, Serial RS-422, Serial RS-485 | CANopen, DeviceNet Slave, EtherCAT Slave, EtherNet/IP, MECHATROLINK II Slave, MODBUS/TCP, POWERLINK, PROFIBUS DP Slave, PROFINET Slave | A1000 inverter: 3~ 200 V, HD: 0.75 kW 5.0 A, ND: 1.1 kW 6.0 A, max. output freq. 400Hz | |
| | Closed loop V/f, Closed loop vector, Open loop V/f, Open loop vector | 230 V three phase | 1.5 kW | 2.2 kW | No | IP20 | No | Induction or asynchronous motor, Permanent magnet motor | As inverter option | MODBUS Slave, Serial RS-422, Serial RS-485 | CANopen, DeviceNet Slave, EtherCAT Slave, EtherNet/IP, MECHATROLINK II Slave, MODBUS/TCP, POWERLINK, PROFIBUS DP Slave, PROFINET Slave | A1000 freq.reg. HD: 1,5 kW, I nom. 8 A / ND: 2,2 kW, I nom. 9,6 A, 3~ 200 VAC, max. uitgangsfreq. 400 Hz | |
| | Closed loop V/f, Closed loop vector, Open loop V/f, Open loop vector | 230 V three phase | 2.2 kW | 3 kW | No | IP20 | No | Induction or asynchronous motor, Permanent magnet motor | As inverter option | MODBUS Slave, Serial RS-422, Serial RS-485 | CANopen, DeviceNet Slave, EtherCAT Slave, EtherNet/IP, MECHATROLINK II Slave, MODBUS/TCP, POWERLINK, PROFIBUS DP Slave, PROFINET Slave | A1000 freq.reg., 3~ 200 V,HD: 2,2 kW, I nom. 11 A / ND: 3,7 kW, I nom. 12 A, max. output freq. 400Hz | |
| | Closed loop V/f, Closed loop vector, Open loop V/f, Open loop vector | 230 V three phase | 4 kW | 5.5 kW | No | IP20 | No | Induction or asynchronous motor, Permanent magnet motor | As inverter option | MODBUS Slave, Serial RS-422, Serial RS-485 | CANopen, DeviceNet Slave, EtherCAT Slave, EtherNet/IP, MECHATROLINK II Slave, MODBUS/TCP, POWERLINK, PROFIBUS DP Slave, PROFINET Slave | A1000 freq.reg. HD: 3,7 kW, I nom. 17,5 A / ND: 5,5 kW, I nom. 21 A, 3~ 200 VAC, max. uitgangsfreq. 400 Hz | |
| | Closed loop V/f, Closed loop vector, Open loop V/f, Open loop vector | 230 V three phase | 5.5 kW | 7.5 kW | No | IP20 | No | Induction or asynchronous motor, Permanent magnet motor | As inverter option | MODBUS Slave, Serial RS-422, Serial RS-485 | CANopen, DeviceNet Slave, EtherCAT Slave, EtherNet/IP, MECHATROLINK II Slave, MODBUS/TCP, POWERLINK, PROFIBUS DP Slave, PROFINET Slave | A1000 freq.reg., 3~ 200 V,HD: 5,5 kW, I nom. 25 A / ND: 7,5 kW, I nom. 30 A, max. output freq. 400Hz | |
| | Closed loop V/f, Closed loop vector, Open loop V/f, Open loop vector | 230 V three phase | 7.5 kW | 11 kW | No | IP20 | No | Induction or asynchronous motor, Permanent magnet motor | As inverter option | MODBUS Slave, Serial RS-422, Serial RS-485 | CANopen, DeviceNet Slave, EtherCAT Slave, EtherNet/IP, MECHATROLINK II Slave, MODBUS/TCP, POWERLINK, PROFIBUS DP Slave, PROFINET Slave | A1000 freq.reg., 3~ 200 V,HD: 7,5 kW, I nom. 33 A / ND: 11 kW, I nom. 40 A, max. output freq. 400Hz | |
| | Closed loop V/f, Closed loop vector, Open loop V/f, Open loop vector | 230 V three phase | 11 kW | 15 kW | No | IP20 | No | Induction or asynchronous motor, Permanent magnet motor | As inverter option | MODBUS Slave, Serial RS-422, Serial RS-485 | CANopen, DeviceNet Slave, EtherCAT Slave, EtherNet/IP, MECHATROLINK II Slave, MODBUS/TCP, POWERLINK, PROFIBUS DP Slave, PROFINET Slave | A1000 freq.reg., 3~ 200 V,HD: 11 kW, I nom. 47 A / ND: 15 kW, I nom. 56 A, max. output freq. 400Hz | |
| | Closed loop V/f, Closed loop vector, Open loop V/f, Open loop vector | 230 V three phase | 15 kW | 18.5 kW | No | IP20 | No | Induction or asynchronous motor, Permanent magnet motor | As inverter option | MODBUS Slave, Serial RS-422, Serial RS-485 | CANopen, DeviceNet Slave, EtherCAT Slave, EtherNet/IP, MECHATROLINK II Slave, MODBUS/TCP, POWERLINK, PROFIBUS DP Slave, PROFINET Slave | A1000 inverter: 3~ 200 V, HD: 15 kW 60.0 A, ND: 18.5 kW 69.0 A, max. output freq. 400Hz | |
| | Closed loop V/f, Closed loop vector, Open loop V/f, Open loop vector | 230 V three phase | 18.5 kW | 22 kW | No | IP20 | No | Induction or asynchronous motor, Permanent magnet motor | As inverter option | MODBUS Slave, Serial RS-422, Serial RS-485 | CANopen, DeviceNet Slave, EtherCAT Slave, EtherNet/IP, MECHATROLINK II Slave, MODBUS/TCP, POWERLINK, PROFIBUS DP Slave, PROFINET Slave | A1000 inverter: 3~ 200 V, HD: 18.5 kW 75 A, ND: 22 kW 81 A, max. output freq. 400Hz | |
| | Closed loop V/f, Closed loop vector, Open loop V/f, Open loop vector | 230 V three phase | 22 kW | 30 kW | No | IP00 | No | Induction or asynchronous motor, Permanent magnet motor | As inverter option | MODBUS Slave, Serial RS-422, Serial RS-485 | CANopen, DeviceNet Slave, EtherCAT Slave, EtherNet/IP, MECHATROLINK II Slave, MODBUS/TCP, POWERLINK, PROFIBUS DP Slave, PROFINET Slave | A1000 freq.reg., 3~ 200 V,HD: 22 kW, I nom. 85 A / ND: 30 kW, I nom. 110 A, max. output freq. 400Hz | |
| | Closed loop V/f, Closed loop vector, Open loop V/f, Open loop vector | 230 V three phase | 30 kW | 37 kW | No | IP00 | No | Induction or asynchronous motor, Permanent magnet motor | As inverter option | MODBUS Slave, Serial RS-422, Serial RS-485 | CANopen, DeviceNet Slave, EtherCAT Slave, EtherNet/IP, MECHATROLINK II Slave, MODBUS/TCP, POWERLINK, PROFIBUS DP Slave, PROFINET Slave | A1000 inverter: 3~ 200 V, HD: 30 kW 115 A, ND: 37 kW 138 A, max. output freq. 400Hz | |
| | Closed loop V/f, Closed loop vector, Open loop V/f, Open loop vector | 230 V three phase | 37 kW | 45 kW | No | IP00 | No | Induction or asynchronous motor, Permanent magnet motor | As inverter option | MODBUS Slave, Serial RS-422, Serial RS-485 | CANopen, DeviceNet Slave, EtherCAT Slave, EtherNet/IP, MECHATROLINK II Slave, MODBUS/TCP, POWERLINK, PROFIBUS DP Slave, PROFINET Slave | A1000 freq.reg., 3~ 200 V,HD: 37 kW, I nom. 145 A / ND: 45 kW, I nom. 169 A, max. output freq. 400Hz | |
| | Closed loop V/f, Closed loop vector, Open loop V/f, Open loop vector | 230 V three phase | 45 kW | 55 kW | No | IP00 | No | Induction or asynchronous motor, Permanent magnet motor | As inverter option | MODBUS Slave, Serial RS-422, Serial RS-485 | CANopen, DeviceNet Slave, EtherCAT Slave, EtherNet/IP, MECHATROLINK II Slave, MODBUS/TCP, POWERLINK, PROFIBUS DP Slave, PROFINET Slave | A1000 freq.reg., 3~ 200 V,HD: 45 kW, I nom. 180 A / ND: 55 kW, I nom. 211 A, max. output freq. 400Hz | |
| | Closed loop V/f, Closed loop vector, Open loop V/f, Open loop vector | 230 V three phase | 55 kW | 75 kW | No | IP00 | No | Induction or asynchronous motor, Permanent magnet motor | As inverter option | MODBUS Slave, Serial RS-422, Serial RS-485 | CANopen, DeviceNet Slave, EtherCAT Slave, EtherNet/IP, MECHATROLINK II Slave, MODBUS/TCP, POWERLINK, PROFIBUS DP Slave, PROFINET Slave | A1000 inverter: 3~ 200 V, HD: 55 kW 215 A, ND: 75 kW 250 A, max. output freq. 400Hz | |
| | Closed loop V/f, Closed loop vector, Open loop V/f, Open loop vector | 230 V three phase | 75 kW | 90 kW | No | IP00 | No | Induction or asynchronous motor, Permanent magnet motor | As inverter option | MODBUS Slave, Serial RS-422, Serial RS-485 | CANopen, DeviceNet Slave, EtherCAT Slave, EtherNet/IP, MECHATROLINK II Slave, MODBUS/TCP, POWERLINK, PROFIBUS DP Slave, PROFINET Slave | A1000 freq.reg., 3~ 200 V,HD: 75 kW, I nom. 283 A / ND: 90 kW, I nom. 312 A, max. output freq. 400Hz | |
| | Closed loop V/f, Closed loop vector, Open loop V/f, Open loop vector | 230 V three phase | 90 kW | 110 kW | No | IP00 | No | Induction or asynchronous motor, Permanent magnet motor | As inverter option | MODBUS Slave, Serial RS-422, Serial RS-485 | CANopen, DeviceNet Slave, EtherCAT Slave, EtherNet/IP, MECHATROLINK II Slave, MODBUS/TCP, POWERLINK, PROFIBUS DP Slave, PROFINET Slave | A1000 inverter: 3~ 200 V, HD: 90 kW 346 A, ND: 110 kW 360 A, max. output freq. 400Hz | |
| | Closed loop V/f, Closed loop vector, Open loop V/f, Open loop vector | 230 V three phase | 110 kW | 110 kW | No | IP00 | No | Induction or asynchronous motor, Permanent magnet motor | As inverter option | MODBUS Slave, Serial RS-422, Serial RS-485 | CANopen, DeviceNet Slave, EtherCAT Slave, EtherNet/IP, MECHATROLINK II Slave, MODBUS/TCP, POWERLINK, PROFIBUS DP Slave, PROFINET Slave | A1000 inverter: 3~ 200 V, HD: 110 kW 415 A, ND: 110 kW 415 A, max. output freq. 400Hz | |
| | Closed loop V/f, Closed loop vector, Open loop V/f, Open loop vector | 400 V three phase | 0.55 kW | 0.75 kW | No | IP20 | No | Induction or asynchronous motor, Permanent magnet motor | As inverter option | MODBUS Slave, Serial RS-422, Serial RS-485 | CANopen, DeviceNet Slave, EtherCAT Slave, EtherNet/IP, MECHATROLINK II Slave, MODBUS/TCP, POWERLINK, PROFIBUS DP Slave, PROFINET Slave | A1000 freq.reg. HD: 0,4 kW, I nom. 1,8 A / ND: 0,75 kW, I nom. 2,1 A, 3~400 VAC, max. uitgangsfreq. 400 Hz | |
| | Closed loop V/f, Closed loop vector, Open loop V/f, Open loop vector | 400 V three phase | 1.1 kW | 1.5 kW | No | IP20 | No | Induction or asynchronous motor, Permanent magnet motor | As inverter option | MODBUS Slave, Serial RS-422, Serial RS-485 | CANopen, DeviceNet Slave, EtherCAT Slave, EtherNet/IP, MECHATROLINK II Slave, MODBUS/TCP, POWERLINK, PROFIBUS DP Slave, PROFINET Slave | A1000 freq.reg. HD: 0,75 kW, I nom. 3,4 A / ND: 1,5 kW, I nom. 4,1 A, 3~400 VAC, max. uitgangsfreq. 400 Hz | |
Producten vergelijken
Nog producten weergeven
Accessoires
Regenerative accessories
D1000 kit - DC Supply with Regenerative Active Front End system
Regenerative DC bus supply unit (D1000)
Rated output capacity (kW)1

IP20 (CIMR-DC4A0005 to CIMR-DC4A0020 models)
EMC filter
Low harmonic filter
R1000 kit - Regenerative Braking unit system
Regenerative Braking unit (R1000)
Rated output capacity (kW)3

IP20 (CIMR-RC4A03P5 to CIMR-RC4A0028 models)
Current suppression reactor
---
Hoe kunnen we u helpen?
Als u een vraag hebt of een offerte wilt aanvragen, kunt u contact met ons opnemen of een verzoek indienen.
+31 (0) 23 568 11 00
Contact opnemen
Neem contact met mij op A1000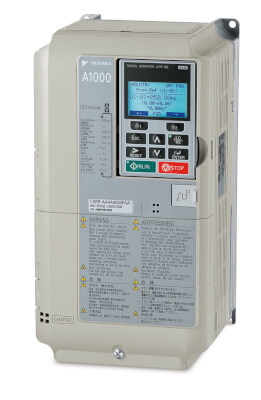 Dank u wel voor het insturen van uw verzoek. Wij informeren u zo snel als mogelijk.
Wij ondervinden technische problemen. Uw formulierinzending is niet gelukt. Onze verontschuldigingen hiervoor, probeer het later nog een keer. Details: [details]
Download
Offerte aanvragen
Offerte aanvragen
Offerte voor A1000
Met dit formulier kunt u een prijsaanvraag doen voor de producten van uw keuze. Vul alstublieft alle velden in die gemarkeerd zijn met *. Uw persoonlijke gegevens behandelen wij uiteraard volstrekt vertrouwelijk.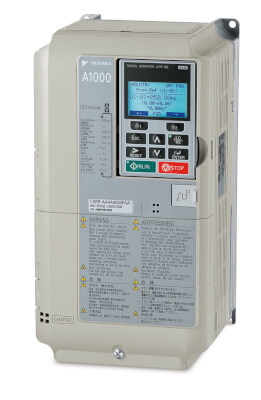 Dank u wel voor uw aanvraag. Wij zenden u de gewenste informatie zo snel als mogelijk.
Wij ondervinden technische problemen. Uw formulierinzending is niet gelukt. Onze verontschuldigingen hiervoor, probeer het later nog een keer. Details: [details]
Download